As most of the people around the world are calling it, 'The Black Day', puts us all in the position where we have no other option but to question ourselves. Is this the end of humanity? On Tuesday, December 16, Children in school were slaughtered like animals (by animals!).  Calling them humans is a disgrace to the humanity. But again.. Is this the end of humanity? Many would say yes but I, for one, do not. In fact, I thought this incident not only created unity amongst Pakistani's but also amongst all the races around the globe. Let's start off with Pakistan itself.
Pakistan:
A country known to be a home of terrorists. Without acknowledging their annual death toll, we instead blame them for being terrorists and not the victims. Recently, the Killings of Peshawar attack has yet again made Pakistan the center of attention in all the news channels. However, there are things that you won't see on Television much. There's always two sides of a story. One of a media and one, the actual truth.
A lot was going on in Pakistan, the day this incident happened.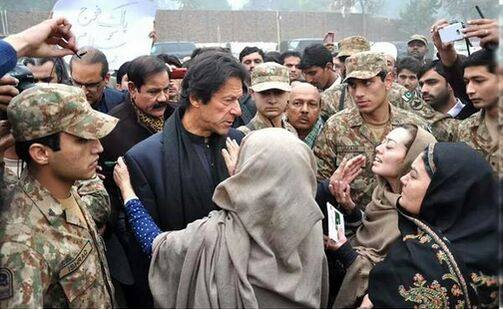 For quite a few months, the famous ex cricketer and politician 'Imran Khan' was Protesting for the resignation of the Prime Minister of Pakistan Nawaz Sharif. But the day, he heard the news about the Killings, he backed off and brought his months long protest to an end. This act won the hearts of everyone in Pakistan including the opposing party. Once again, Pakistan stood united.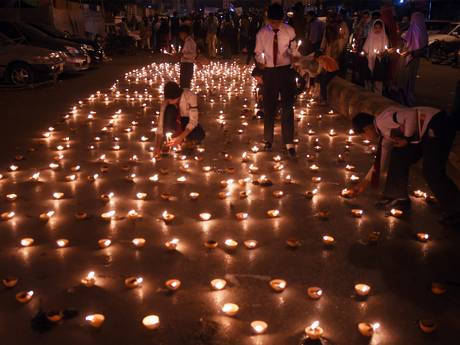 Above is the image of candlelight vigil held in Karachi. Almost every single person in Pakistan using Facebook, Twitter, Instagram e.t.c went on to change their display pictures into a black background to show their support.
Here are few influential posts from famous Pakistani individuals. Go here in order to get more info jogos de casino gratis maquinas.
Famous Pakistani Singer Shehzad Roy on Twitter:
"Aksar janazon par phool daikhay hain, kal pehli baar phoolon ka janaza daikha..."
Translated: Often I've seen flowers on funerals. It was the first time I saw funeral of flowers"
General Raheel Shareef made a bold and promising statement on Twitter:
"Message to TTP. You kill our child. Now you will see the deadly consequences and (be) ready to pay the price. Pak Army will revenge each & every single drop of blood of little departed angels. It's my promise."
Ex President General Pervez Musharraf with an encouraging quote on Facebook:
"I know the unthinkable loss of our children will not deter the resolve of Paksitan Army in crushing these vicious terrorists. In fact it will further strengthen it."
India:
Pakistan and India are no less than rivals but it was a delight to see how much India supported Pakistan in such a fragile situation of Pakistan.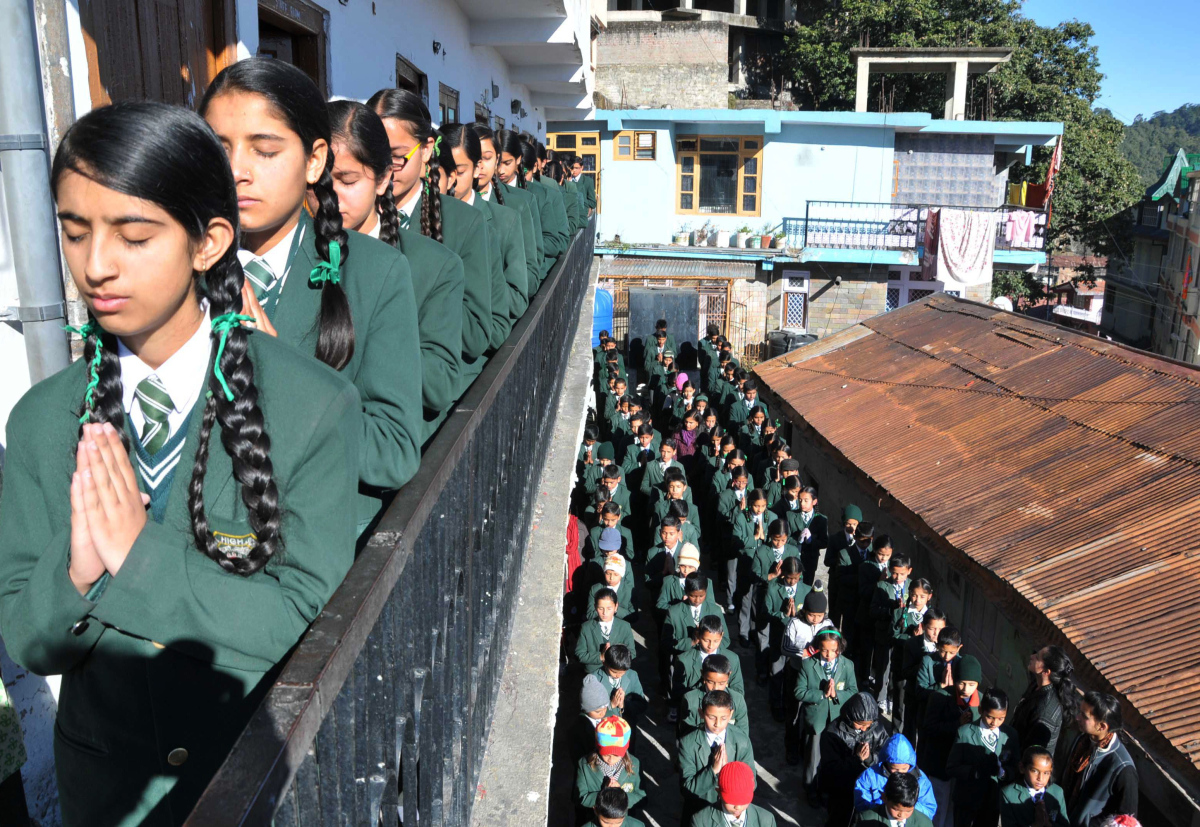 Above is the image where students in India observe silence in the memory of children and pray for the innocent lives lost.
Also other famous Indian Celebrities tweeted their feelings toward this incident.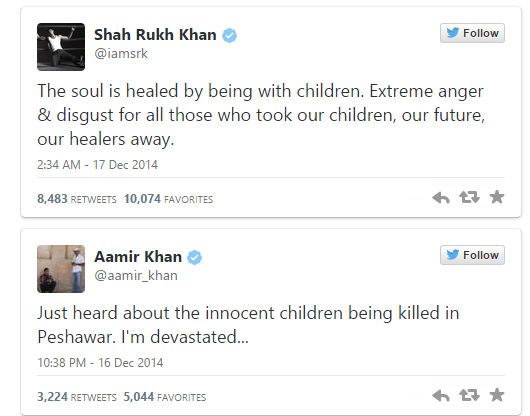 United States:
A lot of vigils were organized in several states. The most amazing thing about this was that there wasn't just Pakistanis or Muslims involved but Americans as well. Below is the video of an American School students reciting an Urdu poem in the memory of students killed
 The Entire World says "We're with you Peshawar!"
People showing support in Austrailia:
Vigil held at London, United Kingdom: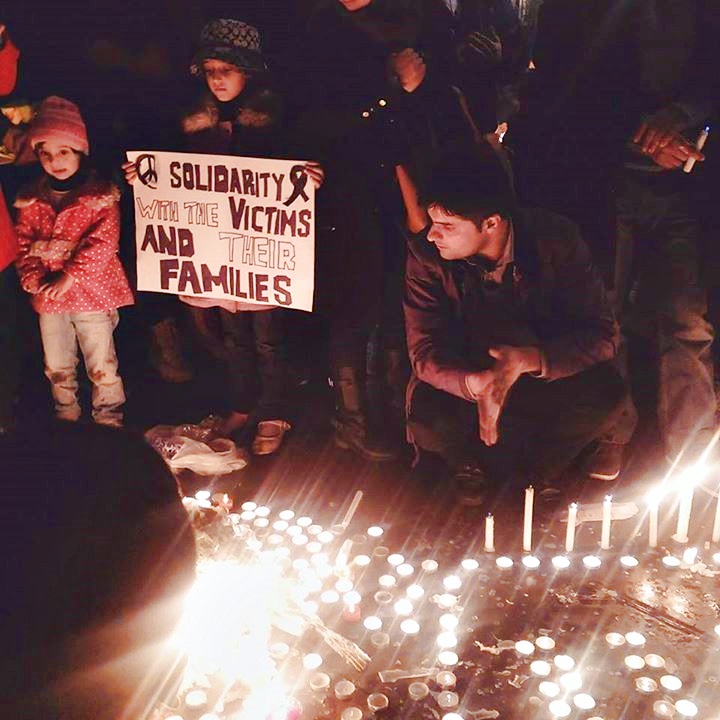 China expressing solidarity with its neighbour.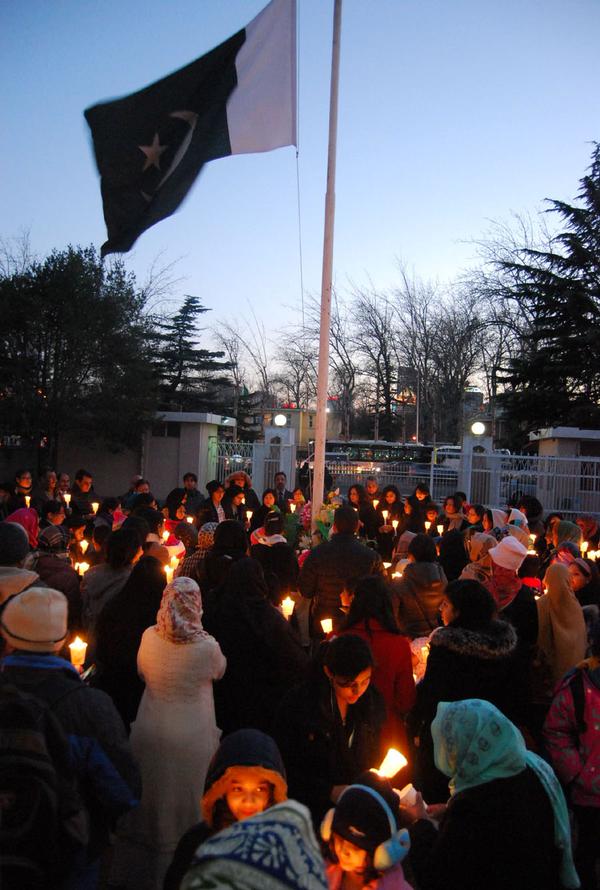 To summarize it all, NO.. humanity is not dead. Instead, it's been awaken. Though, it is unfortunate that it took the lives of 141 children for us to realize. The world stands united. What more could one ask for being any country's citizen. Also, let's not forget about the people from Peshawar suffering. It's about time we understood.. They are not the terrorists. They are the victims!