Greetings Fellow Entrepreneurs!
Technology today is breaking all the barriers as if there is no limit to it or in easy words "sky is the limit". People are looking for quick and easy ways to complete tasks at hand. Multitasking was an option back in the day but today businessman, entrepreneurs, workers, supervisors, managers simply cannot survive without multitasking. To make things easy and simple many useful applications both for laptops and mobile phones are being developed. Some of these wonderful applications are reviewed in this blog.
These applications are most useful for Entrepreneurs, due to many solid reasons. First of all the most amazing thing about these applications is, that they are absolutely free of cost and work incredibly. Secondly these applications are user friendly. Another fantastic thing is that, these applications can also be interlinked with each other so that no task is missed while heavy multitasking. These applications are a life line for any entrepreneur.
Time and time again it is proven that, entrepreneurs are known to be the masters of efficiency, right? Besides having an amazing team to support the venture, entrepreneurs can utilize highly advanced applications to keep them on their best level. These amazing applications increase productivity and efficiency.
Do you need to manage your financials? Well you are in luck then because we have just an application to help you manage your personal finances. Spendee is the application you are looking for, because it gives you the unique power of data analysis in a flexible environment and also automatically and thoroughly analyzes your income, expenses and finances, providing you with a brilliant advice on how to manage your money. The app is beautifully designed with a user friendly. Just put the numbers in and wait for the analysis and be amazed with the perfect results with all the required information.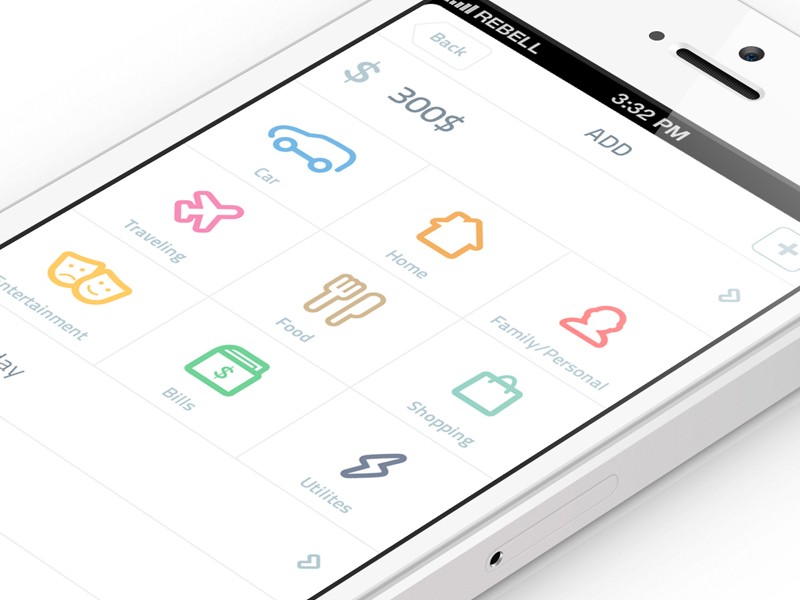 Main Features:
• Intelligent and user friendly.
• Adding a new financial transaction is quick and simple.
• Create a new transaction in seconds.
• Easily editable categories according to user needs.
• Quick and precise notifications for everyday expenses and income.
• Keep a record of your bills and statements by taking photos of them and storing in Spendee.
• Brilliant layout with easy info-graphics option.
• All the data can be synced or transitioned to excel, C-S-V or Google Drive.
Slack is perfect for team communication which includes personal one to one communication or group communication with everyone in real time. Every file, communication, member, folder, image is searchable with quick search bar. Slack helps to work efficiently and reduces the need to use email to communicate because it can be accessed with both mobile phones and a personal laptop. That's Slack !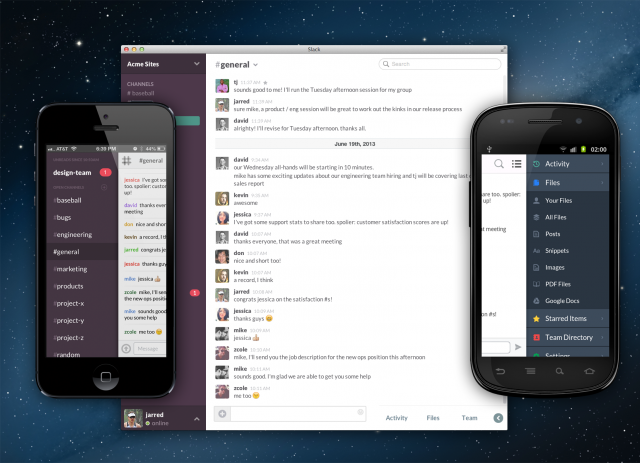 Main Features:
• Create open channels for the projects, group tasks and topic for discussion which the whole team can share and see to participate.
• Channels increase easy access by putting knowledge in front of everyone.
• Complete history of search, communication and documents across all channels are available.
• Channels include private and public instant messages, files & comments, with options of images and video.
• Auto complete feature helps to mention teammates rapidly and easy.
• Push notifications for desktop, mobile phones, and also for email keep you up to date.
• Private and public communication is also supported.
• Files shared on Slack never disappear and stay safe in history.
• Google Docs and Dropbox keep external files in sync.
• Slack is being affiliated with many applications every day.
• Mobile application is also available both for an iPhone and Android.
• Easy file browsing lets you find exactly what you need.
Starting a new business? Then "Knock some sense into marketing" with Primer. Primer is a wonderful application that is for marketing new business and ventures. Primer provides real work experience while marketing for the new start up. Laced with case studies, insider tips and interactive quizzes, Primer teaches you how to promote your new business, get more customers and avoid commonly made mistakes. .
Main Features: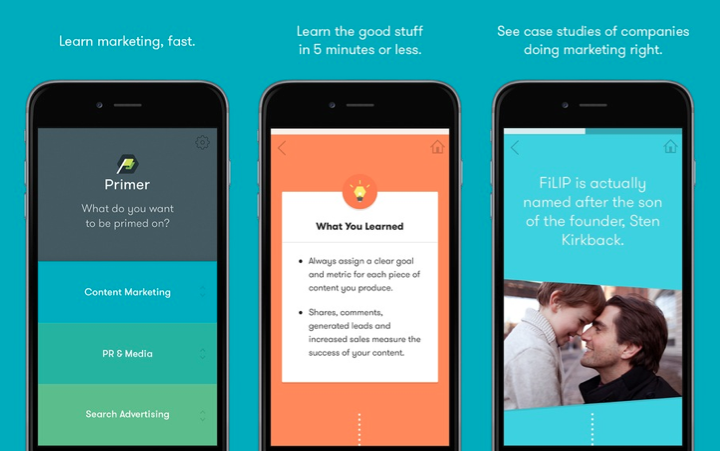 • Content Marketing: PR, Search Engine Marketing.
• Primer also works offline: Learn marketing everywhere, even if you are travelling in the subway, flying in an airplane or even someplace that has no connection to outside world.
• Out-Of-App Learning: when you learn something new apply it by using interactive quizzes and be amazed with the positive results.
• A new program by Google Incorporation.
Found new articles, images, videos or some other interesting content on the web but don't have time to read or see it? Well we have a solution for this with the help of a brilliant application known as Pocket. With the help of Pocket organize and share the content with anyone anytime, on any device, even offline!
Keep a track of the exciting things you find by sending an email of the links to yourself, bookmark links, or simply save tabs in your personal browser for later time. Use Pocket to save content for later.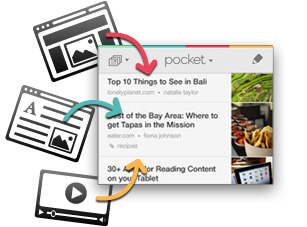 Main Features:
• Save articles, news stories, blog posts, videos, recipes, and any web links that you find online or from your favourite apps.
• If it's in Pocket, it's seamlessly synced across your phone, tablet, and computer. Perfect for commutes, travel, or curling up on your couch.
• Pocket even works when you're offline. Access links and articles you've saved even without an Internet connection. You can also set Pocket to only download when connected to Wi-Fi to reduce data usage.
• Archive or Favourite links you've read or watched. Add Tags to organize related content into topics or categories and stay in sync across all your devices.
• Whether you're browsing online or on-the-go with apps like Flipboard and Feedly, Pocket lets you save great content wherever you find it. You can save for later with a single click from any share menu on your phone or your computer using our Browser Extensions or bookmark lets for Chrome, Safari, Firefox, and Internet Explorer. After you're done reading or watching, send the articles and videos you enjoyed to another friend's Pocket, or share to Facebook, Twitter, Evernote, or email.
• Save as many articles, videos and links as you want. Pocket will highlight the best and most relevant items in your list, organized by topic, source, and length, so that you can always find something interesting to read or watch.
 Asana:
With less and less time in hand, heavy multitasking and loads of documents changing hands in a matter of minutes and seconds, email is kind of getting obsolete. Team work requires a faster way to communicate and figure out what every member is talking about and giving ideas, again email is not an option because these team or group communications happen in real time which is very fast and quick. For this purpose developers have come up with an amazing application known as Asana. Asana is an easy to use application used to keep every group or team member on the same page at the same time. This helps the problem of meeting deadlines and working on ideas collectively. A perfect way to work efficiently together.
Main Features:
With Asana every team member and their ideas are on the same page which helps to save time and work efficiently.
• Create, prioritize, and assign tasks in real time
• Stay up-to-date with mobile Inbox and real time push notifications
• Find tasks, projects, data, members and tags with quick search option.
• Add due dates, recurring tasks, followers, and tags
• Attaching files, documents and images to tasks is very easy
• Sync files and folders with Dropbox
• Assigned tasks are easily visible
• Pilot yourself to new projects by seeing their status
• Changes made in the app sync in real-time